News
Local businesses support Aiken BBQ Restaurant damaged in fire
AIKEN, S.C. (WFXG) - It's not often you find barbeque sauce in a boutique, or a competitor donating 100% of proceeds. However, locals say this fire speaks to a bigger theme - community. The restaurant has been a familiar face to Aiken for decades. Dukes Bar-B-Que Owner Christian Judy feels it's more than business.
"I've grown up in this building from the very infant stages to what it is now," said Judy.
Now, benches outside the establishment remain empty and a closed sign hangs on the front door. Judy said the fire happened quickly.
"We were pretty much just wrapping up the rest of our evening and somehow, someway, we don't know how, but the coals were able to reignite and that flame was able to get out from our pit and was uncontained at that point." said Judy. 
Despite the loss, Judy has a bit of optimism.
"We just came through COVID, and we made it through it. If you can make it through that, you can probably survive most things." said Judy. 
Beyond Bijoux normally sells clothing and accessories. However, these days you can find barbeque sauce on some of the shelves.
"We're fan girls. We are! We like our barbeque." said Nikita Hanif and Bobby Walker. 
"The minute we posted it, we had people from community calling, messaging…I mean, they were literally waiting at the door to come buy the sauce because they wanted to support Dukes." said Hanif, Beyond Bijoux Manager.
The boutique is offering up space to sell a new Dukes product.
"That's the beauty of being in a small town is that you can jump in there and you can help." said Walker, Beyond Bijoux Owner.
Meantime, a competition barbeque team got to cooking.
"We felt the need, we felt compelled to support them anyway we could." said Kurt Mueller, Atomic City Smokers Pitmaster.
Atomic City Smokers donated 100% of fundraiser proceeds from Sunday, June 19 to Dukes.
"What better way to come together as a community and show support…So, it's awesome!" said Mueller.
Pot Smoker BBQ also stepped in for the cause. Thursday, June 16, the restaurant donated 10% of sales to Dukes. In a Facebook post, Pot Smoker BBQ says it was a success.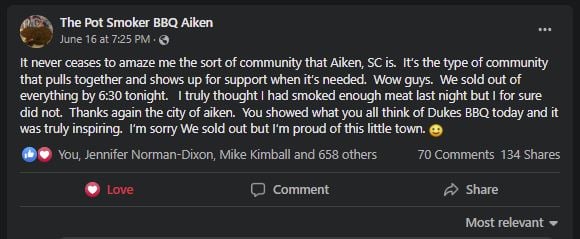 There's still a lot of work to do at Dukes Bar-B-Que.  But, in the midst of loss, Judy finds gratitude. 
"To be on the receiving end is just a very humbling thing because you don't have a lot of control and you don't have the ability to extend the hand. You rely on other people to come alongside you and say you know what, we care about you, we love you, and we want to see you here a long time." said Judy.
Dukes aims to reopen late July. However, management says it could take another two to three months. Judy asks for the community not to set up any GoFundMe accounts at this time. He says you can support by purchasing products like the new sauce, or visiting their second location in Bamberg.
Copyright 2022 WFXG. All rights reserved.