News - Military
Cyber News Now: Smartphone malware on the rise
AUGUSTA, Ga. (WFXG) - All a cyber criminal needs is a way in. Many times, we may think breaches happen only with computers. However, smartphone malware is on the rise too.
"We don't always think about our trusty smart phones and that they can be hacked as well as our computers and laptops, but they can be susceptible." said Kevin Wade, IntelliSystems CEO.
For breaches like these, all it takes is just a little curiosity on your part.
"They're like vampires. You have to let them in first." said Wade.
It happens through smishing, also known as SMS phishing. 
"It's mainly getting a text message you don't expect, maybe having a link send the text message." said Wade.
A text message might not seem like a big deal. However, Wade warns, it can be trouble if you interact with it.
"Sometimes they're stealing usernames, passwords…They can snoop on what you're doing, so in other words, capturing video capturing audio."
Wade says Androids can be extra vulnerable to these threats.
"The app store for Androids is not as supervised in other words, every app doesn't get approved like Apple does."
In order to safeguard your data and your smartphone, Wade encourages users to be weary of messages like these.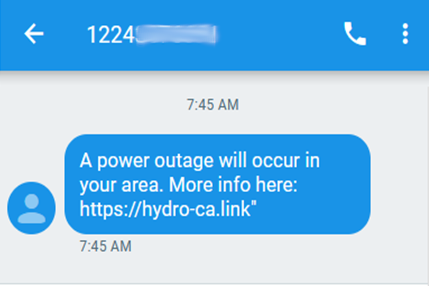 "Never click on something you don't expect. If you have any doubts, contact the user that sent it."
If you are unsure about the link sent in the text, Wade encourages verification outside of the message. 
"Maybe go in and see if it looks legit? Well, actually go to your browser, type in the actual address, and see if it takes you to what it is you're expecting. Looks can be deceiving." said Wade.
Perhaps, most importantly, Wade says don't respond to the message.
"Don't respond to strange texts that you don't expect, or unknown sources. A lot of times it says to respond with something, or again with a link that's in there that allows you to click or download something." said Wade.
Copyright 2022 WFXG. All rights reserved. 
Copyright 2022 WFXG. All rights reserved. 
Copyright 2022 WFXG. All rights reserved.