News - Special Coverage
EAT.PLAY.GO. to Doc's Porchside
Tuesday, February 8th 2022, 7:18 AM EST
GROVETOWN, GA (WFXG) – On Sunday, the Cincinnati Bengals will take on the Los Angeles Rams in Los Angeles at Sofi Stadium.  
Before the big game, you have to have the perfect game plan and Doc's Porchside can help out.
Doc's Porchside General Manager, Daniel Scholer says this restaurant is the perfect place to catch a game, "It's a sports bar, family restaurant, we kind of took a traditional sports pub fare and put a southern twist on it. We had a lot of fun creating this. It's a local concept. We've developed it over the last year."
There's two locations, one in Augusta and the other in Grovetown. Some things about the restaurant may seem familiar, Scholer says, "We were in the restaurant business with Wild Wing Café for about twenty years and then we just decided it was about time for us to do our own thing."
With their new name and new concept, Scholer says their menu doesn't drop the ball, "the most popular menu item is our redneck eggrolls. It's an eggroll that we fill with collard greens, pimento cheese and pulled pork and we deep fry that and we serve it with jalapeno ranch or a Korean BBQ sauce that we have."
If you're throwing a super bowl party, Scholer says their food will give you the playbook for success.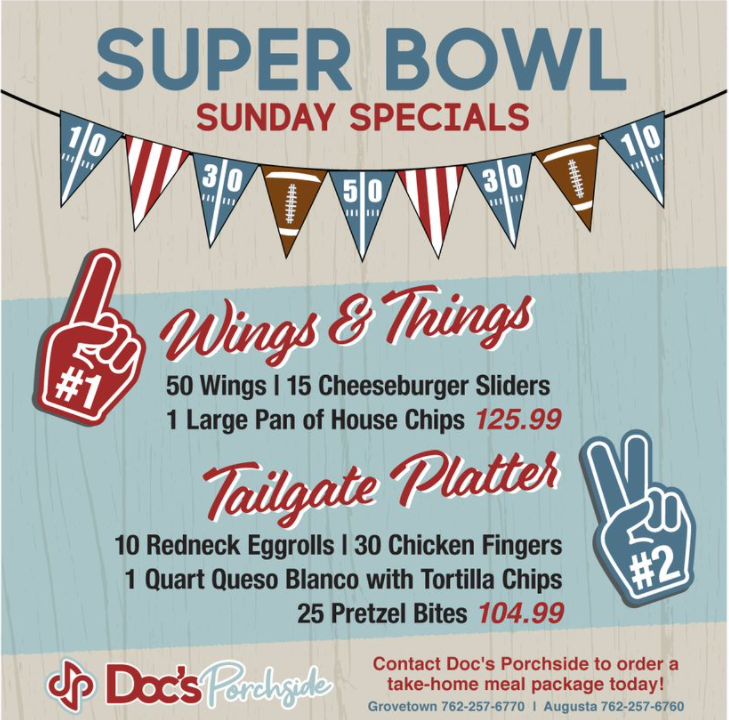 They have two platter specials for take out. The platters include deals on wings, sliders, redneck rolls and more.
And if you don't have anywhere to watch the game, doc's may be a good option. "We've got a ton of TVs, a lot of real estate up here and a really fun staff that's ready to take care of you," says Scholer.
Outside of the Super Bowl, Scholer says anytime is a great time to stop by, "You're going to love it. You don't know what you're missing up here we've got a lot of good folks up here we've got a lot of good food. I feel real strong we've got some cool, unique items on the menu."
Doc's Porchside Augusta is located on Washington Road and the Grovetown location is located on Bluegrass Trail.  
Copyright 2022 WFXG. All rights reserved.