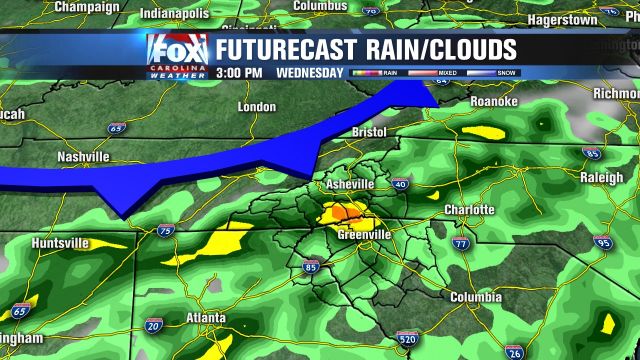 Rain chances go up Wednesday
Storms will become more likely across our area as humidity increases and a front approaches! The best chance of rain comes Wednesday into Thursday as the cold front will be right over us. (see attached image)
Tuesday is looking mostly dry for the Upstate, but VERY hot. Highs will reach 94, but feel like 100 at times! The mountains will see a few scattered storms with highs in the upper 80s.
Wednesday will bring a better rain chance area-wide, but still only 30-40%. Any storms that develop could dump some heavy rain and produce lots of lightning.
Thursday will be the rainiest day of the week, with about a 50/50 shot at rain for most areas. By the weekend we'll see storms become more isolated, and the seasonably hot temps will stick around.