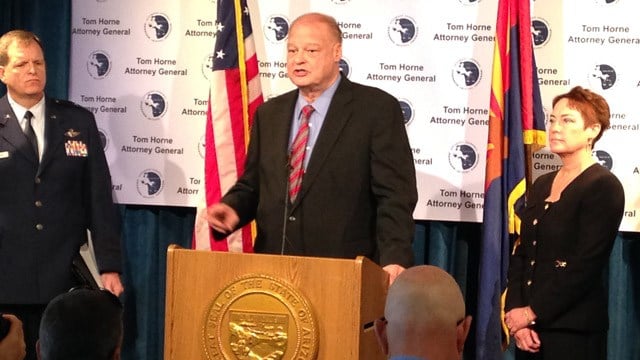 Arizona Attorney General Tom Horne, center. (Source: CBS 5 News)
PHOENIX (AP) -
An administrative law judge is expected to rule soon on whether Arizona Attorney General Tom Horne illegally coordinated campaign spending with an aide running an independent group during his 2010 campaign.
Yavapai County prosecutors say they produced enough evidence during a February civil hearing to show that Horne and aide Kathleen Winn broke campaign-finance law by working together on the outside ads targeting Horne's Democratic opponent. They want Horne to repay $400,000 to donors and up to three times that amount in civil fines.
Lawyers for Horne and Winn say there's no evidence they broke campaign finance laws. They also argue that an FBI agent who investigated the case committed perjury.
Judge Tammy Eigenheer's ruling was due Thursday, but the deadline has been extended to next week.
Copyright 2014 Associated Press. All rights reserved.