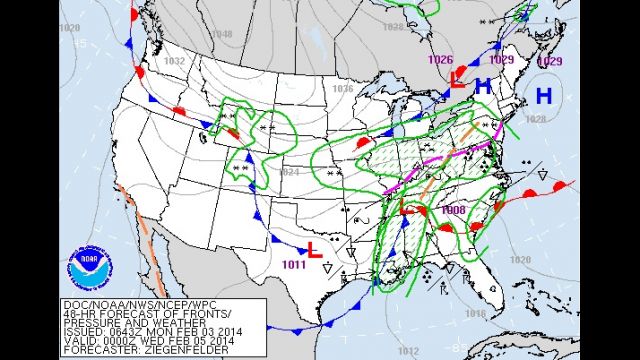 It's going to be an interesting week of temperature swings and rain chances, so prepare to keep a jacket, a T-shirt, and an umbrella handy for the next few days. A cold front is pushing the remainder of this morning's rain toward the coastline, leaving us with partly cloudy skies for the rest of the day. Highs reach the mid-60s Upstate, and mid-50s in the mountains around mid-afternoon, and then continuously fall into the overnight.
Tonight we set up a "cold air damming" scenario, where the cold air that gets pushed into our region from today's frontal passage gets trapped just east of the mountain range. As our next system approaches from the south, the warmer air will ride above that cold air, keeping us quite chilly in the "cold pool" on Tuesday, in the mid-40s for everyone. We should remain dry through much of Tuesday morning, but the warmer air from the south will also bring moisture that will eventually saturate the air above us enough to boost another set of light to moderate showers throughout the day.
Wednesday, ahead of a cold front we will warm back into the upper 50s and mid-60s, with more scattered rain. A low and cold front behind Tuesday's warm front will cross our region bringing heavier rain Wednesday afternoon, before finally allowing the sun and cooler temperatures to return for Thursday.