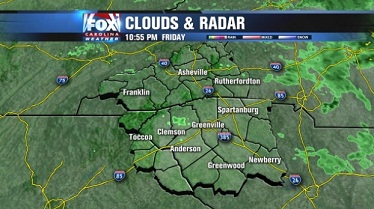 Scattered showers fade out through Friday night, with lows dropping into the 40s for all under mostly cloudy skies. Saturday, we'll sit in between weather systems, with mostly cloudy skies turning partly cloudy with some sunshine late in the day. Highs make it into the low-to-mid 60s area-wide.
Overnight Saturday, we'll see clouds thicken with a chance for a late shower into Sunday early Sunday morning. Sunday's daytime hours will feature mostly cloudy skies and a few passing showers, but a cold front will approach the area through the afternoon, and tap into some moisture from the Gulf. Frequent rain as well as thunderstorms becomes likely into the evening and overnight hours.

By Monday morning's commute we'll still be dealing with pockets of rain, though drier weather will begin to build in around midday. Monday afternoon highs reach into the upper 50s to middle 60s with partly cloudy skies. The front moves east along with the wet weather, and we're left with clearer, colder weather for the remainder of the week, with highs in the 40s in the mountains, and 50s Upstate.