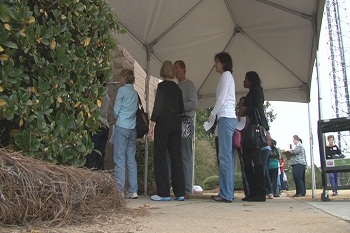 EVANS, GA (WFXG) -
This Saturday meant weekend chores, college football, and for many in the state of Georgia, casting their vote.

"It'll alleviate some time and travel during the week, and if you have the opportunity on a Saturday, it's a good time to come out and do it," says voter Ralph Cadle.

For the only time during the advanced voting period, the polls were open on Saturday and thousands of Georgians took advantage.

"I'm so happy they did this," says voter Ashley Mowyer. "I would've had to send in an absentee ballot if this wasn't the case."

"Getting around their work schedule is somewhat of a challenge," says Columbia County Board Of Elections Registration Coordinator Nancy Gay. "This has been a benefit for them, and I think they've enjoyed it."

Counties across the state, including Columbia County, opened auxiliary locations starting Saturday to help control the anticipated crowds.

"We've had almost 1000 people come out just in our office alone here at the Board of Elections.," Gay says. "We also have a location at Patriots Park and an additional location at Stevens Creek Community Church. The traffic has been very heavy as well there."

Lines were long early in the morning, but voters say they were taken care of in a hurry.

"It was easy," says Cadle. "Fast, efficient, and easy."

"It wasn't bad at all," says Mowyer. "It went pretty quickly."

Board of Elections officials hope the good turnout Saturday and during the rest of the advance voting period will keep the lines down on Election Day.

"That's not to say there's not going to be a line at seven o'clock in the morning because I'm sure there will be," says Gay. "But I also think this will take some pressure off the poll workers and the traffic flow that day."

Advance voting continues until Friday, Nov. 2.