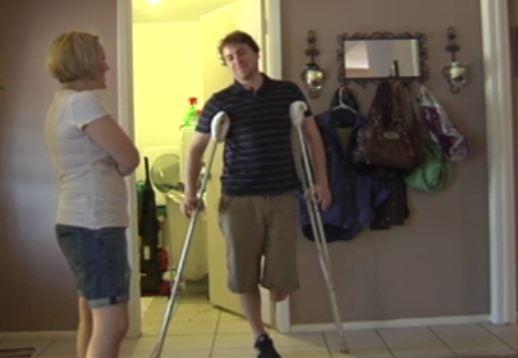 GLENDALE, AZ (CBS5) -
The story of a cancer survivor who had his prosthetic leg stolen, has generated a lot of outrage and angry e-mails.

Matt Groft had his Glendale home broken into last week.

Groft said the crooks made off with computers,TV's and jewelry, but more importantly, they stole his prosthetic leg.

"It's very cruel. They have no use for the leg," said Groft. "It is specifically designed for me and that's how I walk around."

A new prosthetic leg will cost around $15,000. It's money Groft said he doesn't have. In addition, Groft doesn't have health insurance.

However, after hearing Groft's story, prosthetics' specialist Joe Pongratz wanted to chip in $5,000 for the parts and fabrication of a new leg.

"He's a dad with another baby on the way, so we just thought, let's do what we have to do to get this guy off crutches and back on a fitted prosthesis," said Pongratz.

Valley businessman George Brazil said he was also upset when he saw Groft's story on CBS-5 News.

"There's no difference between that, and stealing from a blind person or taking a wheelchair," said Brazil.

Brazil is home recovering from open heart surgery, but insisted that his wife write a $5,000 check and Pay it Forward to help the young man out, while challenging others to step-up and contribute.

"I would like to see them made whole, like it never happened," Brazil said. "I want it erased and everything back to normal."

CBS-5 News invited Groft down to CBS-5's studio Monday to present him with the $5,000 check.

"That's awesome," said Groft. "Unbelievable.The kindness and generosity out there is amazing."

An account has been set up to help the family pay for the rest of the prosthetic leg.

Donors can make a contribution at any Wells Fargo Bank under the Mathew Groft Medical Fund. The account number is 8761-7373-06.