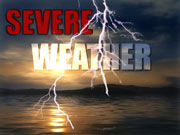 More than a thousand tornadoes strike the United States every year according to the National Weather Service. Most tornadoes last less than ten minutes, but can destroy entire communities in that brief time. Winds have been estimated to exceed 300 miles per hour in some storms, but the brief nature makes tornadoes very difficult an analyze.
The Storm Prediction Center of the National Weather Service assembled a massive amount of information about tornadoes including this list including answers to dozens of frequently asked questions.
Experts unanimously agree that the key to Surviving Severe Weather comes from planning. The National Weather Service in cooperation with the Federal Emergency Management Agency has created this Family Planning Guide that you can download right here.
What was the worst tornado ever? There is a lot of debate, but the Weather Service still calls April 3, 1974 one of the single worst outbreaks. 148 twisters struck 13 states from Mississippi and Alabama north to Michigan and east to West Virginia and North Carolina. 330 people died according to the National Weather Service across a 2500 mile stretch of the country. Forecasters learned quite a bit from this outbreak and much of that information is available on a web page specially created about the 1974 outbreak.